At Left Bank our team of experts has the necessary skills to lead real estate projects from sourcing to disposal. We systematically invest alongside our investors, in all our real estate initiatives. Our policy is to consider all asset classes – offices, housing, retail and industrial – and specifically distressed real estate built prior to 2000, which we refurbish to high market standards using optimal sustainable building techniques. To ensure we can
create value
, we only select assets with the following specific features:
Good accessibility
Attractive environment with gardens, retail, restaurants or entertainment
Distinctive architectural features, for example a noteworthy facade, spacious interiors or luminosity
Potential for increased value, through refurbishment, conversion and the introduction of the latest technological innovations.
Our goal is to offer our future tenants functional, high-quality space with contained running costs.
We listen, we advise
At Left Bank we focus on forecasting and analysing the specificities of each market, but more importantly we anticipate our tenants' needs and our partners' demand.  We have an internal team of analysts available to advise, monitor and steer our joint-investors' strategies, whether they are family offices or institutional investors.
We transform, we personalise
Our close-knit team boasts a wide range of complementary skills. The synergy resulting from this expertise at Left Bank produces solutions that match our partners' initial expectations and our tenants' needs. Our strength is to react rapidly to shifts in the property market for the entire holding period.
The benefit
As a fully integrated and independent real estate company targeting distressed assets, we implement our investment strategy – enhancing value and portfolio management – in Portugal, Spain and principally France.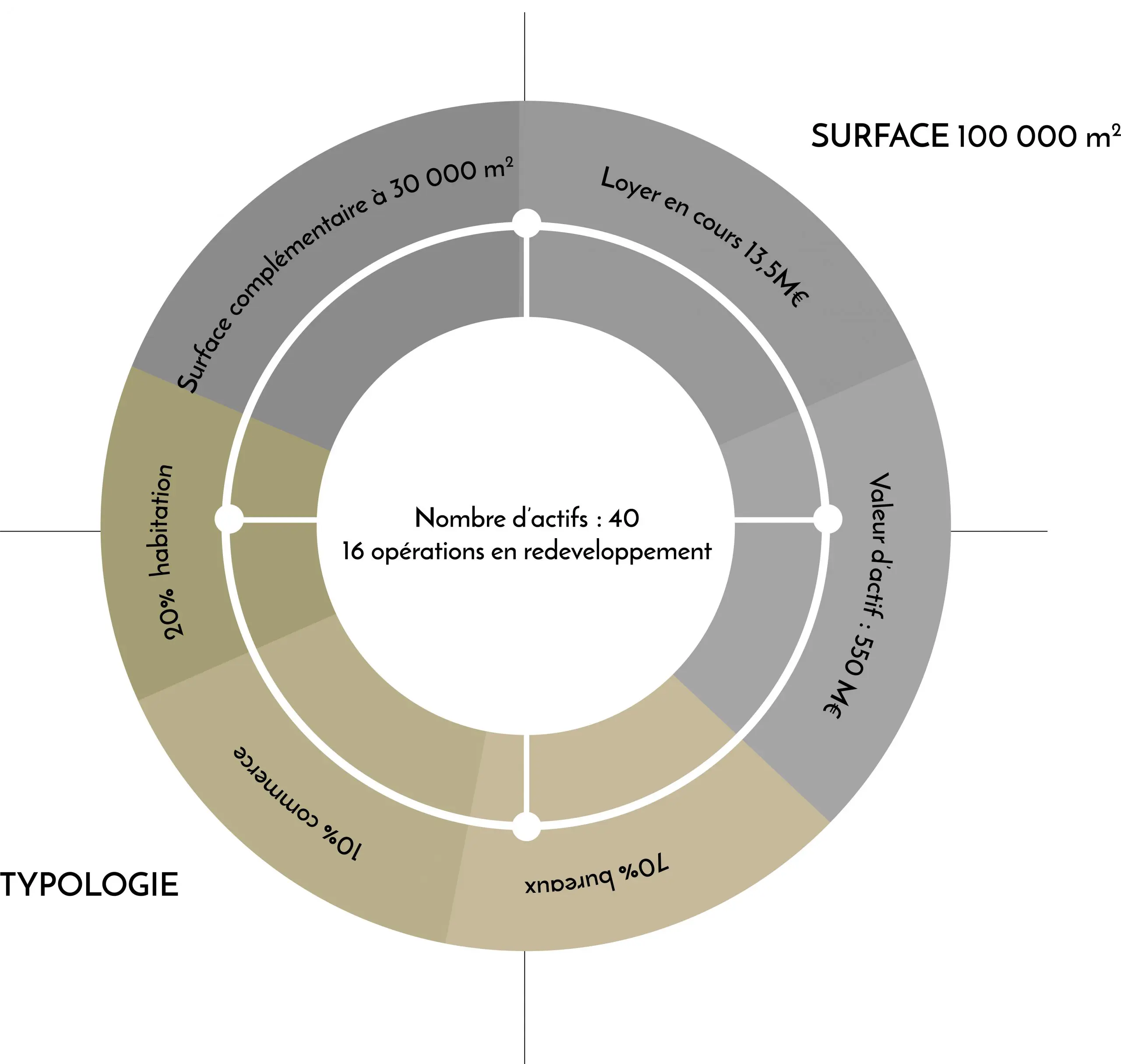 PARTNERSHIP
More than trust, the need to succeed. We know our limits. We have therefore built long-standing partnerships with experts in many fields so that we can call on them when required. Together, we have developed relationships of mutual understanding and trust, and with them we are committed to delivering quality and excellence to our joint investors and tenants.
ARCHITECTES > ARCHIBUILD / ARMELLE COUDEL / DGM & ASSOCIES / INEDIT / MAUD CAUBET ARCHITECTES / ORY ARCHITECTURE / QFA ARCHITECTURES / STUDIO VINCENT ESCHALIER / TRIPTYQUE ARCHITECTURE / WILMOTTE & ASSOCIES / SURVEYORS > DANIEL LEGRAND / GEXPERTISE / JEAN-FRANCOIS DALBIN / ENGINEERING OFFICES > BETEC / BTP CONSULTANT / BUREAU VERITAS / DEAR CONCEPT / QUALICONSULT / ROM / BANQUES > BANQUE POSTALE / BANQUES POPULAIRES / BECM / BRED / CAISSE D'EPARGNE / CAIXA / CIC / CREDIT AGRICOLE / CREDIT FONCIER / GROUPE BPCE / MY PARTNER BANK / SOCFIM / NOTAIRES > HAUSSMAN NOTAIRES / AVOCATS  > FLV & ASSOCIES / JOFFE & ASSOCIES / LIGL / CABINET NEU-JANICKI / CABINET LACOURTE RAQUIN TATAR / ENTREPRISES > AMIANTECH / BMA / CMB 75 / GA SMART BUILDING / HANDRO BAT / IDF DEMOLITION / KOBAT / SOREC / SRC VINCI / AMO > DELPHA CONSEIL / GROUPE ARC / GROUPE KARDHAM / PROMOTEURS > NACARAT / PITCH PROMOTION /